Felt Hats & Specialty items
Wool and or Wool Cotton blend
Dyed with elements strait from nature.
Amazing Grace Felt Hat Sm. $109.00
The Lion Sleeps Tonight Felt Hat Med. $109.00
Wool Felt Lace Scarf $69.00
Yarn is 100% wool
Dyed with local Aspen leaves and or natural elements.
Yarn comes in multiple weights.
Bulky $12.00
Bouclet $16.00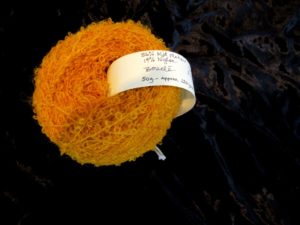 Variegated Bulky $12.00
Bulky $12.00
Scarfs are 100% Silk or Wool Silk blend.
Dyed & printed with local plants.
Each one is a unique design.
Silk Scarf 62-B $59.00
Silk Scarf 58-B $59.00
Silk Scarf #55 $49.00
Silk Scarf 56-A $59.00
Silk Scarf 61-A $59.00
Silk Scarf 53-A $59.00
Silk Scarf 39-B $24.00
Silk/Wool Scarf 52-B $59.00
Silk Scarf 35-A $49.00